This e-text has been scanned from the 1975 Arno Press facsimile of the 1899 edition of this novel. To the best of my knowledge and belief all European copyright in this work, including editorial copyright in the facsimile, has now expired.

Unfortunately the illustrations were not reproduced particularly well; they have been scanned at 200 DPI and reduced to 100 DPI for large images, to 50 DPI for links, since little or no detail was added at higher resolutions.
---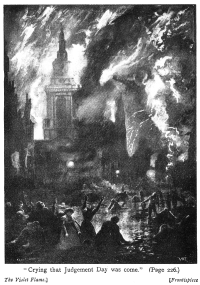 THE VIOLET FLAME
A STORY OF ARMAGEDDON AND AFTER
BY
FRED. T. JANE
AUTHOR OF TO VENUS IN FIVE SECONDS,' THE INCUBATOR GIRL,'
THE LORDSHIP, THE PASSEN AND WE,' ETC.
Illustrated by the Author
LONDON
WARD, LOCK & CO., LIMITED
NEW YORK AND MELBOURNE
1899

All rights reserved

To MY BROTHER CECIL.
---
CONTENTS
---
LIST OF ILLUSTRATIONS
---